31 lipca 1970 roku był dniem żałoby. Marynarze kręcili się po pokładach ze zwieszonymi nosami, niektórzy założyli czarne opaski na ramię. Na szkoleniowcu HMS Collingwood odbył się symboliczny pogrzeb – z czarną trumną, bębnami i dudziarzami. Grobowa atmosfera w Królewskiej Marynarce Wojennej dobitnie świadczyła, że coś się skończyło. Nie, nie, nikt nie umarł. Dzień ten przeszedł do historii jako "Black Tot Day". Ostatni dzień, w którym na okrętach Royal Navy wydana została zwyczajowa dzienna porcja rumu.
Pół roku wcześniej Admiralicja wydała pisemną odpowiedź na pytanie posła Christophera Meyhewa dotyczącą zasadności wydawania porcji rumowych w XX wieku. Brzmiała ona następująco: "Rada Admiralicji stwierdza, że kwestia porcji rumu nie jest już zgodna z wysokimi standardami działania, wymaganymi teraz, gdy zadania załóg na okrętach dotyczą skomplikowanych, a i często delikatnych maszyn i systemów, od których prawidłowego funkcjonowania może zależeć życie ludzi".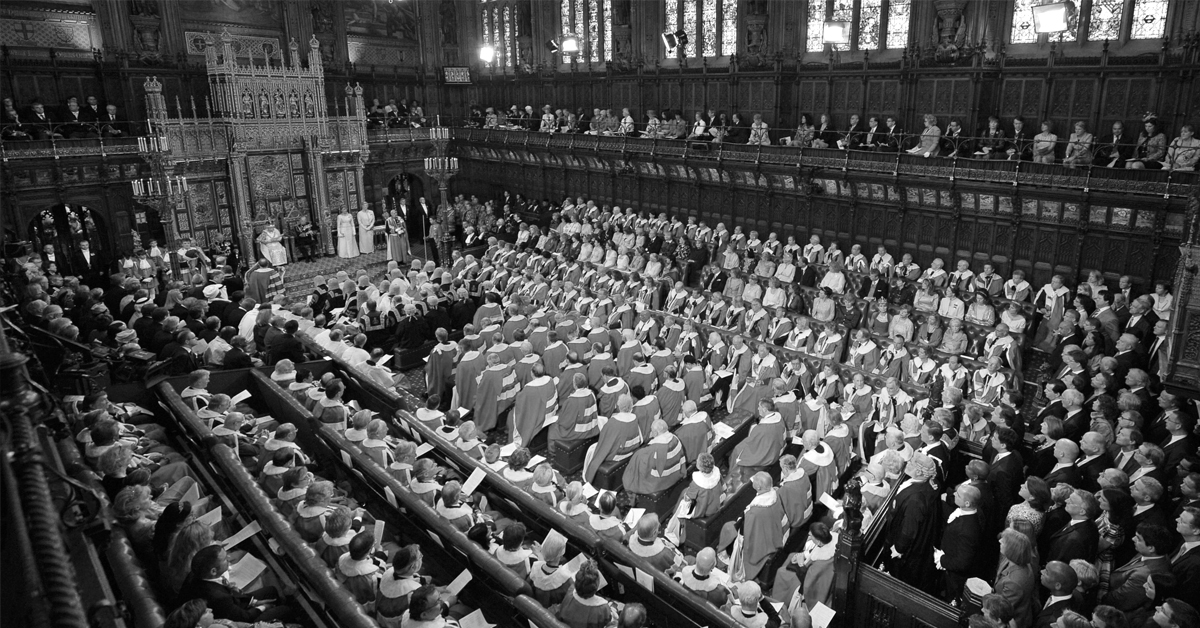 28 stycznia 1970 roku miała miejsce burzliwa, acz krótka debata w brytyjskim parlamencie na ten temat. Po godzinie i 15 minutach – mimo głosów sprzeciwu – zdecydowano, że codzienna dawka rumu zostanie zlikwidowana.
Jak można się domyślić, decyzja nie spotkała się z aplauzem wśród marynarzy. Na nic nie zdała się także próba przekupstwa, zastępująca rum puszką piwa. Tak czy inaczej, ponad 300 letnia tradycja wiążąca rum z Royal Navy skończyła się. Ale właściwie jak się zaczęła?
Od momentu Wielkich Odkryć Geograficznych głównym problemem na statkach i okrętach, odbywających często wielotygodniowe, a nawet wielomiesięczne rejsy, stało się przechowywanie wody. Jej żywotność w drewnianych beczkach była dalece niezadowalająca. Beczki służyły nie tylko do przewożenia wody, ale również śledzi, mięsa, wina, czy towarów sypkich. Można się domyślić, że daleko było jej do jakości wody źródlanej. Problem początkowo rozwiązywano, dolewając do wody brandy, dzięki czemu konserwowano ją i nadawano jej trochę smaku (a marynarzom także nieco szmeru w głowie).
Drugim sposobem napojenia marynarzy była codzienna porcja piwa. Niestety, niepasteryzowane piwo nie wytrzymywało próby czasu w cieplejszych regionach okołorównikowych. (Co ciekawe, każdemu marynarzowi przysługiwało dziennie prawie 5 litrów piwa). A rum.. Rum się nie psuł.
Po skolonizowaniu wysp karaibskich oraz wybrzeży Północnej i Południowej Ameryki jedną z najczęściej uprawianych roślin stała się trzcina cukrowa. Produkcja była tania, przede wszystkim dlatego, że siłę roboczą stanowili afrykańscy niewolnicy. Roślinę uprawiano dla cukru (w Europie nie znano jeszcze wtedy buraka cukrowego), a przy jego produkcji "odpadem" była melasa. Plantatorzy już wtedy wyznawali tak popularną dzisiaj zasadę "zero waste", toteż melasę zaczęto fermentować, destylować i… tak otrzymano rum.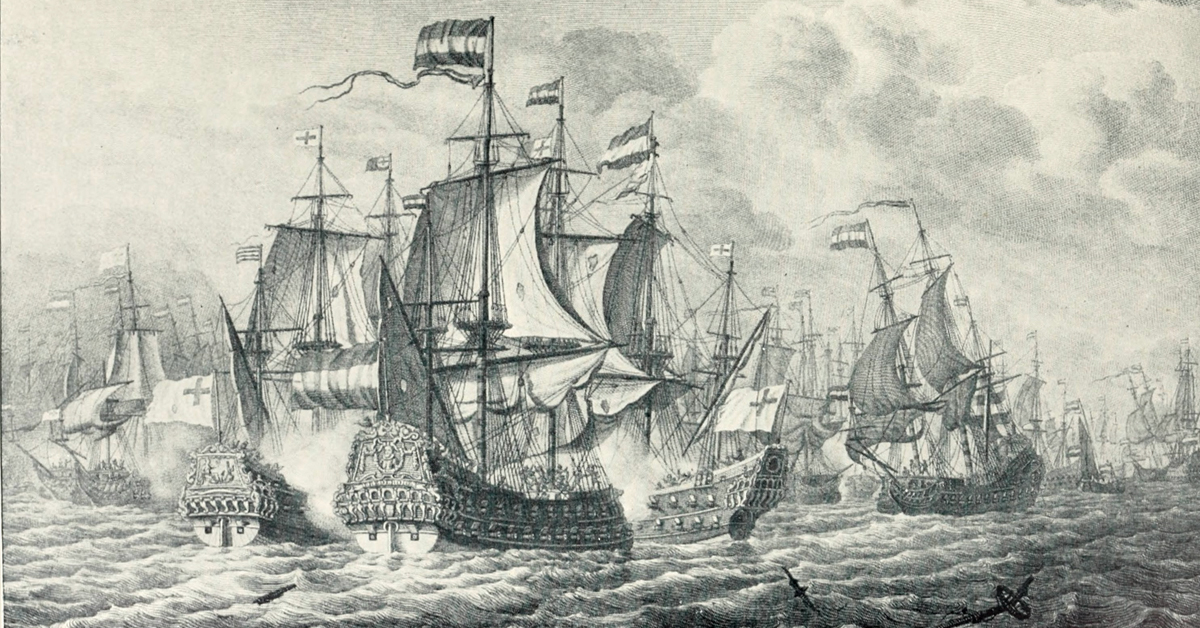 Mówimy o czasach, kiedy konflikty z koroną francuską o kolonie skutecznie wstrzymywały dostawy francuskiego wina do angielskich portów. Podobnie było z trunkami z Hiszpanii. Duże ilości rumu produkowanego w koloniach stały się wtedy ich idealnym substytutem. Przed 1655 rokiem na samym Barbadosie produkowano rocznie 900 000 galonów rumu (3 330 000 litrów). Trochę wypijali mieszkańcy samej wysepki, a nieznane, lecz na pewno niewielkie, ilości były szmuglowane do Anglii. W 1698 roku oficjalnie na Wyspy Brytyjskie wyeksportowano ledwie 207 galonów rumu. Coś trzeba było zrobić z resztą. Sprawie rumu pomogły silne wpływy bajecznie bogatych plantatorów z Indii Zachodnich. Lobby karaibskich latyfundystów załatwiło sprawę z brytyjskimi władzami metropolitalnymi, a armia marynarzy już czekała z kubkami.
W 1655 roku zaczęto wydawać na brytyjskich okrętach rum jako ekwiwalent porcji piwa. Codziennie każdy marynarz otrzymywał pół pinty rumu. Kiedy okręt był w boju, porcję tę podwajano, zapewne dla odwagi.
Racje podawano z jednej konkretnej beczki, znanej również jako "Rum Tub". Była zrobiona z dębu dębowa, bogato dekorowana, wzmocniona mosiężnymi opaskami z mosiężnymi literami: "Królowa, niech Bóg jej błogosławi". Rytuał odbywał się między 11 a 12 w południe. Wytaczano beczkę, bosman gwizdał i okrzykiem "Up Spirits!" ogłaszał rozpoczęcie wydawania. Marynarze zgodnie odpowiadali "Stand Fast, the Holy Ghost!". Każda kajuta miała swojego przedstawiciela, zwanego "Rum Bosun". Pilnował, by oficer wydający porcje lał wszystkim i po równo.
Rozlewany marynarzom rum był początkowo nierozcieńczony, w mocy 54,5% (początkowo 57%). Do czasu wynalezienia przez Bartholomew Sikesa hydrometru (w 1816 roku) nie było możliwości zbadania zawartości alkoholu w destylatach. Marynarze znaleźli sprytny sposób na rozwiązanie tego problemu. Proces wyglądał następująco: kilka ziaren prochu maczano w rumie, następnie mieszaninę podgrzewano przy użyciu promieni słonecznych i podpalano. Jeśli zapłon nastąpił, był to dowód ("proof") na wysoką zawartość alkoholu. Procenty te miały również znaczenie dla wartości bojowej okrętu. Gdy z przypadkowo uszkodzonej beczki rum wylał się na proch, dalej można było go używać do strzelania z dział. Stąd też czasem na etykietach alkoholi mocnych można było znaleźć określenie "Navy Strength".
Rum miał na tyle dużo zalet, że długo nie przejmowano się jego główną wadą – łatwo było się nim upić. Każdy mógł zrobić ze swoją porcją co chciał, choć nie każdy rum dostawał. W księdze pokładowej przy swoim nazwisku, można było zaznaczyć "G" – wtedy otrzymywano grog (o nim za chwilę). Można było zaznaczyć "T" – od "Temperance Movement" (popularny w XIX wieku Ruch Wstrzemięźliwości). Abstynenci otrzymywali w zamian dodatkowe 3 pensy dziennie do żołdu. Kwitł również handel racjami. Rum wymieniano na piwo, drobne rzeczy osobiste, jedzenie.
Jak nietrudno się domyślić, stała obecność wysokoprocentowego alkoholu na statku sprawiała, że pijani marynarze wypadali przez burtę albo spadali z masztów – czyli nie byli w stanie wykonywać swoich obowiązków. Stawali się niebezpieczni dla siebie i kolegów z pokładu. Sytuację postanowił opanować admirał Edward Vernon, zwany również "Old Grog" (od starego płaszcza zrobionego z materiału grogram). W 1740 roku sformalizował "Tot" (z angielskiego kapka), dzieląc go na dwie porcje, wydawane rano i wieczorem. Stworzył również koktail związany z morzem i marynarzami do dziś – grog. Napój składał się z pół litra rumu i kwarty wody (1:4 na niekorzyść rumu). Często dodawano do tej mieszanki soki z owoców cytrusowych, które dzięki wysokiej zawartości witaminy C zapobiegały szkorbutowi, jednej z największych plag na morzu. Innym marynarskim napojem był "Bumbo", połączenie rumu, wody, cukru i gałki muszkatołowej. Oficjalnie, wymóg dodawania soku z cytryny lub limonki zatwierdzono w 1795 roku, a brytyjscy marynarze wśród Francuzów i Hiszpanów dorobili się przezwiska "limeys" (kwaśnoocy).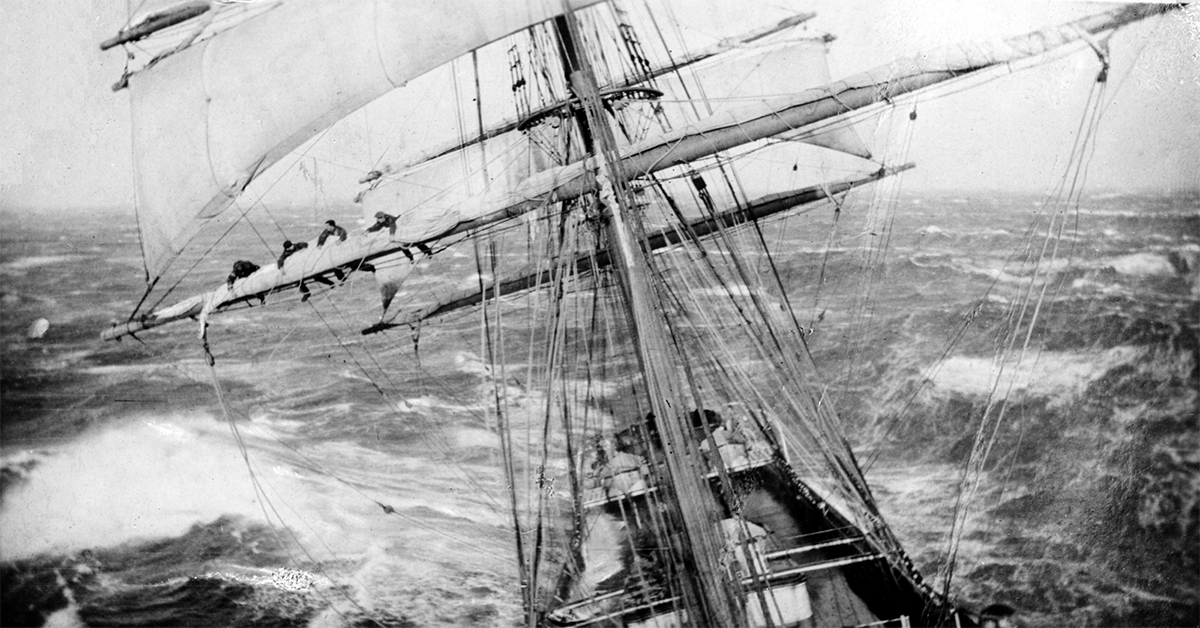 Bardzo aktywny i wpływowy Ruch Wstrzemięźliwości miał swój udział w ograniczeniu wydawanej porcji rumu. W 1850 roku "Tot" został zmniejszony do 140ml. W 1881 roku zakazano wydawania racji pierwszym oficerom, 40 lat później oficerom, aż w końcu w 1970 roku całkiem zniesiono ten zwyczaj. Nie znaczy to jednak, że rum całkowicie zniknął z Royal Navy. W kompetencjach brytyjskiego monarchy pozostała możliwość wydania rozkazu "splice the mainbrace". Polega on na wydaniu porcji alkoholu z powodu dobrej służby lub wyjątkowych okazji. Pierwotnie termin ten dotyczył jednego z najcięższych i najniebezpieczniejszych zadań na okręcie, mianowicie naprawy najgrubszej liny służącej do poruszania rejami.
W marynarce australijskiej z porcji rumu zrezygnowano w 1921 roku, kanadyjska Royal Canadian Navy zrezygnowała w 1972. Najdłużej przetrwała w marynarce Nowej Zelandii, bo aż do 1990 roku.
PRZEPIS NA HMS VICTORY PUNCH Z 1797 ROKU
1 kwarta* rumu (najlepiej ciemny z Barbadosu lub Jamajki albo brandy)
3 kwarty wody
1/2 "cup"** soku z cytryny
1,25 cup cukru
Wszystkie składniki wymieszaj w misce, dodaj blok lodowy i zaserwuj!
* kwarta angielska to 1,136l
** cup to miara objętości wynosząca w przybliżeniu 10 imperialnych uncji czyli około 280ml
Mikołaj Siemiak-Zielonka
FESTUS.PL
Komentarze
Treść