Początki Gomez Cruzado sięgają 1886 roku, kiedy Ángel Gomez de Arteche, arystokrata spokrewniony z meksykańskim księciem Moctezuma de Tultengo, postanowił produkować i butelkować wina w Haro, samym sercu Rioja Alta.
W 1916 roku winnicę kupują Agustyn i Jesús Gomez Cruzado, pochodzący z Rioja. Od ich nazwiska pochodzi obecna nazwa winiarni Gomez CRUZADO. Przez ponad dekadę znajduje się w rękach kilku inwestorów, by ostatecznie znaleźć się w rękach obecnych właścicieli, rodziny Baños, pochodzących z Badarán w Rioja, ale zamieszkujących w Meksyku. Winnica odzyskuje swój rodzinny charakter, jest dziś "butikową winiarnią" w dzielnicy Barrio de la Estación, a po gruntownej renowacji została oddana do użytku w 2005 roku. Umożliwiło to winiarzom, wykorzystać obecny postęp wiedzy enologicznej i najnowsze techniki winiarskie, zmierzyć się z potrzebami i wymogami XXI wieku, uzyskać w swych winach wyraziste aromaty i czyste smaki.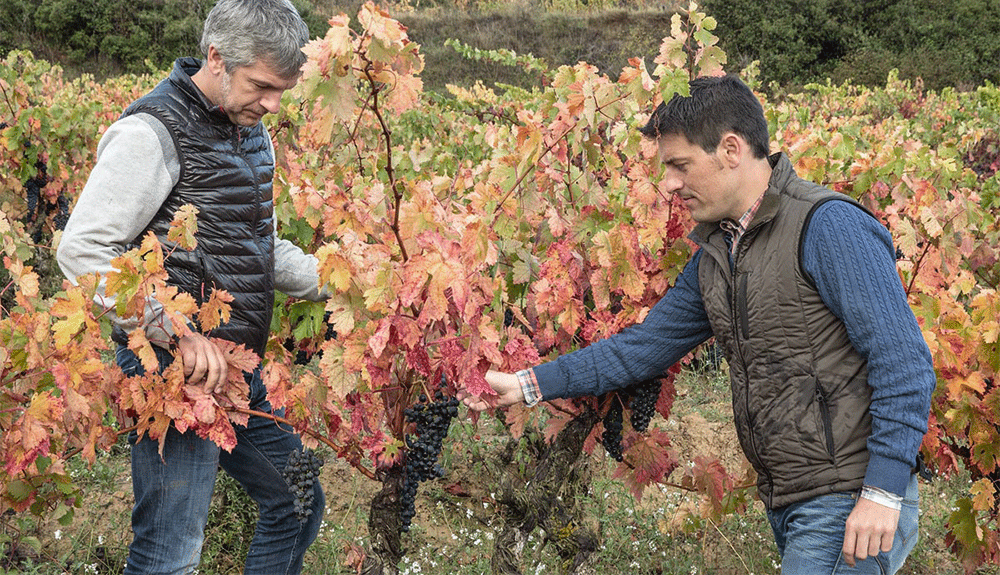 Niektórzy krytycy wina stawiają Gomez Cruzado wśród dziesięciu najlepszych producentów Rioja, jednego z najbardziej klasycznych regionów Hiszpanii, z trudem tolerującą odszczepieńców zdradzających ustalone przez apelację zasady wytwarzania win, nawet jeśli w efekcie otrzymują znakomite wina. Kierujący od dziesięciu lat winicą – David Gonzalez i Juan Antonio Leza Martinez nie należą do odszczepieńców, ale są bardzo innowacyjni, tworzą wina nowoczesne, ale w granicach tradycji. Są odmienne od win Artadi, Finca Allende czy Tobelos. Bogate, wielowarstwowe, złożone, Cruzado ma to czego wiele z większych, znanych, tradycyjnych bodeg nie ma. Są archetypem dla nowoczesnej szkoły Rioja. Ale znajdziemy tam to co najbardziej lubimy w starej szkole: cygara, cedr, śliwkę, wanilię.. Z roczną produkcją prawie 200000 butelek, Bodegas Gomez Cruzado kultywuje sztukę pozostania rodzinną posiadłością i jest strażnikiem tradycji.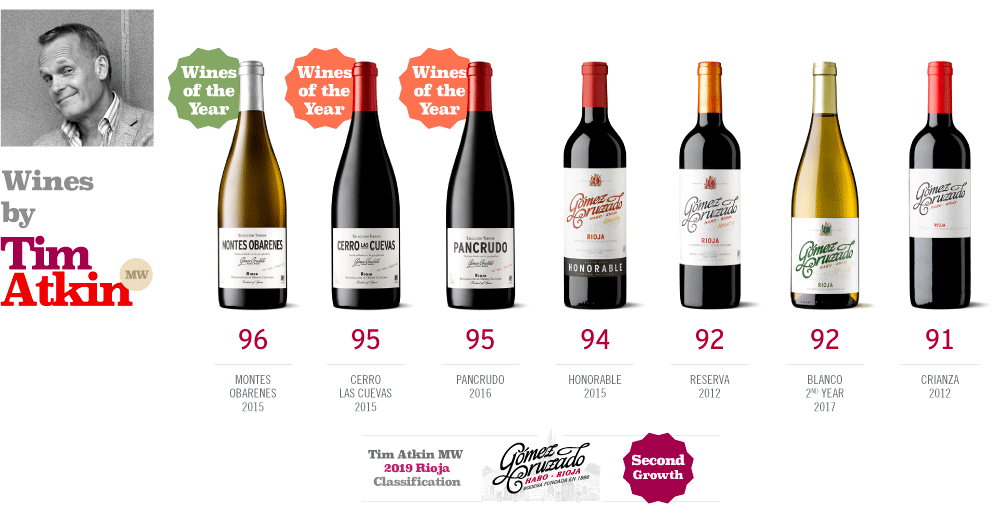 Winnice są idealnie położone na wysokości od 500 do 750 metrów. Dzięki morskiemu klimatowi Sierra Cantabria produkuje wina wyróżniające się świeżością i elegancją.
Wina z Bodegas Gomez Cruzado są jednymi z najważniejszych punktów odniesienia w Rioja, są naprawdę autentyczne i wykonane z największym szacunkiem dla terroir. Honorable, to klasyczne Rioja, gęste i soczyste. Pancrudo, to ekscytujące wino wyrażające własny terroir. Niezwykle interesujące wydaje się być białe Montes Obarenes, mieszanka viura z 25% dodatkiem białego tempranillo, fermentowane i częściowo starzone w modnych dziś, nowatorskich zbiornikach w kształcie jaja. Wina Pancrudo u różnych krytyków zwykle osiągają 92, 93 a nawet 95/100 punktów. Bodega położona jest między Bodegas La Rioja Alta a Bodegas Muga.
EL BARRIO DE LA ESTACIÓN DE HARO

Nikt nie ma wątpliwości, że Barrio de la Estación de Haro, miejsce pełne symboliki, zrewolucjonizowało świat winiarski Rioja. Jest enklawą, która ma największą koncentrację stuletnich winiarni na świecie, a których budowa skoncentrowana była wokół wspólnej osi: dworca kolejowego, miejsca znanego także jako złota mila win Rioja. Barrio de la Estación de Haro jest podróżą w czasie, w której można śledzić ewolucję wina i architektury ubiegłego wieku. Pod koniec XIX wieku Haro było jednym z najważniejszych miast w Hiszpanii, jako drugie miało oddział banku narodowego i elektryczność!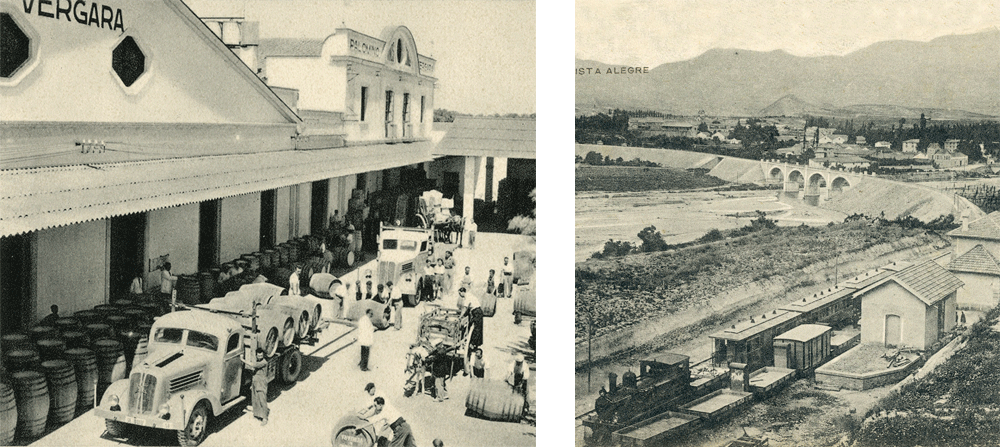 Dzielnica wokół dworca kolejowego w Haro była tak ważna dlatego, że w drugiej połowie XIX wieku nastąpiła historyczna wymiana transportu konnego na kolejowy. Okoliczność ta spowodowała, że wielu francuskich winiarzy, po klęsce oidium (1863) i filoksery (1867) kupowało wina w Rioja instalując swoje centra handlowe w pobliżu tymczasowego dworca kolejowego. Sąsiedztwo stacji kolejowej umożliwiało transport win do Bilbao, z którego eksportowano wina na cały świat. Francuzi wnieśli do Rioja swoją technikę starzenia win, która rozprzestrzeniła się w całym regionie. Ten bezprecedensowy wzrost gospodarczy trwał aż do początków XX wieku, kiedy plaga filoksery praktycznie zniszczyła wszystkie winnice. Rioja odradzała się wolno, winorośl szczepiono na podkładach amerykańskich, odpornych na tego owada. W 1926 roku wyznaczono obszar apelacji, zastosowano odpowiednie środki prawne w celu ochrony przed fałszerzami i dobrego imienia Rioja.
Z tych czasów nie pozostał żaden magazyn win pochodzenia francuskiego, ale do dziś istnieją R. López de Heredia y Landeta (1877 rok), najstarsza bodega w Haro i jedna z pierwszych trzech Rioja – dzisiejsza Bodegas R. López de Heredia Viña Tondonia, Compañía Vinícola del Norte de España (1879 rok), znana bardziej pod skrótem CVNE, Gomez Cruzado (1886 rok), La Rioja Alta S.A (1890 rok) i Bodegas Bilbaínas (1901 rok). W ciągu około 30 lat (1877/1904), w sąsiedztwie stacji powstały także fabryki brandy, mydeł i nawozów..
W latach siedemdziesiątych XX wieku, założona w 1932 roku Bodegas Muga (lata 70-te XX wieku), także przeniosła się z centrum do prestiżowej dzielnicy Barrio de la Estación Haro. Dekadę później zbudowała tu swoje obiekty Bodegas Roda (1987 rok).